April 25, 2006
Last April 25, 2006 was the first annual Parental Alienation Awareness Day. Many events were organized that day, but supporters all over the world. These included two workshops with Mr. Harvey Shapiro of CaseAssist.com, on in Toronto and one in Miami. In Toronto Mr Shapiro had guest speaker Mr. Vernon Beck of Family Conflict Resolution Services.

We also had 24 hrs of free webinars available through our site so people could speak with professionals on the subject. A big thank you to the following people for taking time out of their busy schedules to do the webinars:
Dr. Catherine Cain
Dr. Michael Bone
Dr. Ken Lewis
Dr. Amy Baker
Dr. Robert Evans
Dr. Barry Brody
Dr. David Britton
Dr. Reena Sommers
Dr. Pamela Wright
Christina McGhee

Please take a look below at the wonderful worldwide events that occured on that day as well:
Events Around the World
Organazing an event, or just simply passing out flyers and pamphlets?
Post them here for others to join you. Email us at events@paawareness.org
WORLDWIDE

Letter writting campaign to the United Nations.
If you can, mail it with a stamp with the photo of your child(ren) on it.
www.stamps.com
www.canadapost.ca

Click here to download the letter in word format. Click here to download the letter in rtf format. Click here to download the letter in French.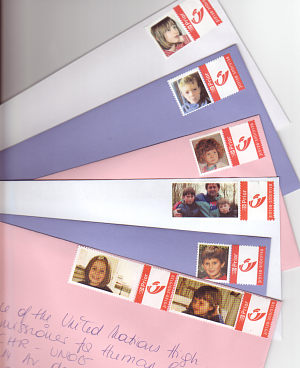 ---
Colloque-débat sur l'Aliénation Parentale, vendredi 2 juin à 20h à LYON.
L'association L'ENFANT ET SON DROIT de Lyon (E2SD) organise en partenariat avec ACALPA, l'Association contre l'Aliénation Parentale, une conférence-débat sur le Syndrome d'Aliénation Parentale le 2 Juin 2006.
Conférencier : Dr. Edouard BROUSSALIAN
Il s'agit de troubles présentés par les enfants, le plus fréquemment lors ou à la suite de la séparation de leurs parents. Ces enfants sont manipulés plus ou moins consciemment par l'un de leurs deux parents (parfois les deux) qui les pousse à dénigrer et haïr leur autre parent, sans aucune raison apparente et en totale discordance avec la réalité des faits. Dans les situations les plus graves, les enfants refusent violemment tout contact avec ce deuxième parent et toute sa famille : ils vont alors tenir des propos insensés, porter de graves accusations mensongères et se " réinventer " des souvenirs d'enfance.
Les sujets abordés seront les suivants :
- le Syndrome d'Aliénation Parentale : définition, mécanismes, symptômes pour un diagnostic ;
- comment prévenir la mise en place du Syndrome d'Aliénation Parentale ;
- comment « guérir » un Syndrome d'Aliénation parentale déjà en place (avec des conseils pour les familles concernées et pour les professionnels de l'enfance).

La conférence aura lieu le 2 Juin 2006 à 20 heures, à l'adresse suivante :
Mairie de Lyon 8ème - 21, avenue Jean Mermoz- 69008 Lyon
INDISPENSABLE : CONFIRMEZ VOTRE PARTICIPATION

Contact pour plus d'informations :
Hélène Couratin
e-mail : helene.couratin@wanadoo.fr


---
PAAD Article on iParenting.com
---

The April 23, 2006, issue of the Sherman (Texas) Herald-Democrat published my letter at http://www.herald-democrat.com/articles/2006/04/23/letters/letters01.txt
Don


---

We the members of AFJ made all the noise possible
and sent all the emails possible and put comments
on our websites and are creating mirror websites
world wide. We have even created a few political
parties and encouraging as a way to draw attention
to this social problem. Please feel free to steal
our banner, link and create as many mirror sites
as you wish. Yes children have the right to be with
Dad and Mom and Action For Justice is striving to
make it THE LAW around the world. Best wishes,
www.action4justice.com


---

Recent media coverage I have picked up for information.  The first BBC Online article includes a reference to Grandparents Apart Self Help Groups being instrumental in the development of the Grandparents Charter (http://www.scotland.gov.uk/Resource/Doc/1097/0022665.pdf) and also a video (via the website) explaining the impact on grandparents and interview from Lydia Reid, Chairman of Grandparents Apart.

The Charter for Grandchildren, produced by the Grandparents Apart Self Help Group, has called for greater recognition of how grandparents fit into families.


---

I did my bit for World PAS Awareness here in New Zealand too. I made posters and put around the place, including in lawyer's home letterboxes. 26 April 2006 - New Zealand


---

Action For Justice Network The Action For Justice network (AFJ) of the United States has celebrated April 25, 2006 by sending out emails to all separated and divorced parents making them fully aware of the consequences of Parental Alientation caused to children. 25 April 2006 - United States


---

Andrea I would just like to let everyone know that April 25th is Parental Alienation and Hostile Parenting Awareness all over the world. Its encouraging to know that on April 25th, all countries will be united in the fight against P.A.S. More recognition is what we need to eradicate the ignorance, and stop our children being hurt. 30 March 2006 - North Of England


---

Matrimonio secreto de la Vicepresidenta (26/04/2006) Fuentes bien informadas (programa "Cinco Lunas" de Reyes Monforte en Punto Radio) aseguran que Mª Teresa Fernández de la Vega (para muchos de "VOGUE") ha contraido recientemente matrimonio secreto con su compañera sentimental y que han adquirido una vivienda en común.

El matrimonio secreto no se inscribe en el Registro Civil
más


---
Radio shows
Articles
Parental alienation needing attention
By Don Mathis Sherman
Did you know that Parental Alienation is a form of Child Abuse? Many people may be aware that April is National Child Abuse Awareness Month but they are probably not aware that April 25 is Parental Alienation Awareness .
A lot of people - including counselors and so called "child advocates" - may not even be aware of the term "Parental Alienation." It happens often to children of divorce or separation.
Parental alienation occurs when one parent bad mouths the other parent. Children know they are part-mom and part-dad and when one parent is degraded, the child will feel part of them is being put down as well.
Children are so susceptible to what they hear. What child doesn't believe in Santa Claus or the Easter Bunny? So when a child hears that "Daddy doesn't love you" or "Mommy is stupid," feelings are internalized
Parental alienation can be more subtle as well. When Divorced Dad tries to call his child on the phone - and the conversation is interrupted by Mom's demand to "Clean your room" or "Do your homework," the child learns to associate good feelings with Dad with unpleasant tasks or household chores.
The Texas attorney general will often go after the "Deadbeat Dad" who can't pay child support - even if he has been downsized due to corporate greed. But the AG will do nothing if "Malicious Mother" breaks the same divorce decree and doesn't allow the child to see his dad.
According to the Web site www.paawareness.org, the aim of Parental Alienation Awareness is to make judges, police officers, psychiatrists, lawyers, as well as friends and family of the people abusing their children by alienation tactics, to become aware of this growing problem and form of abuse.
With awareness comes education and understanding, and the power to stop the abuse of innocent children caught in the crossfire of people they love.
---
Press Release - 24th April 2006
For immediate release
Parental Alienation Awareness 25 April 2006
25 April is the first international PA Awareness . It is being observed in 20 countries.
"Parental alienation syndrome" is the brain washing of a child by one parent against the other. It is one of the saddest, and commonest manifestations of family break-down.
The manipulation of children by one parent, with the intention that they reject the other parent, is a type of psychological violence which qualifies as abuse.
Family Court decisions about the parenting of children are being increasingly based on the children's own expressed wishes. This is a positive development, and will lead in the normal case to the children being allowed to spend more time with their non-residential parent than they are currently allowed. However, this does also increase the incentive for the parent with whom they mostly live to get them to express, as if it was the child's own, any hostility felt by the residential parent to their ex.
That parent is obviously in a stronger position to resist the sharing of parenting time if they can say that the children involved do not want to see, or have a relationship with, their other parent.
Sometimes the children are coached in what to say to, for example, welfare workers. Sometimes they simply want to please their residential parents by saying what they believe that parent wants them to say. Occasionally the children blame their 'other parent' for any problems they or their residential parent seem to have as a result of family division. It can vary, therefore, from deliberate poisoning of a relationship to something not explicitly intended at all.
The issue is not a gender one - when children live with fathers, fathers can abuse their power over them just as badly as mothers. But obviously this is rarer, with 90% or so of children in the sole custody of mothers.
The solution to so many of the problems of family break-down is in shared parenting.
Often the outcome is that the grown-up children turn against the alienating parent. As a result they end up with severely damaged relationships with both.
FNF members would like to talk to the media about Parental Alienation.
For further information go to http://www.fnf.org.uk/law/pas.htm
And: http://www.paawareness.org/
The Madrid Declaration: http://www.fnf.org.uk/files/Declaration%20of%20Madrid.pdf
Add your name to letter to the UN at http://www.fnf.org.uk/news/pasletter.htm
---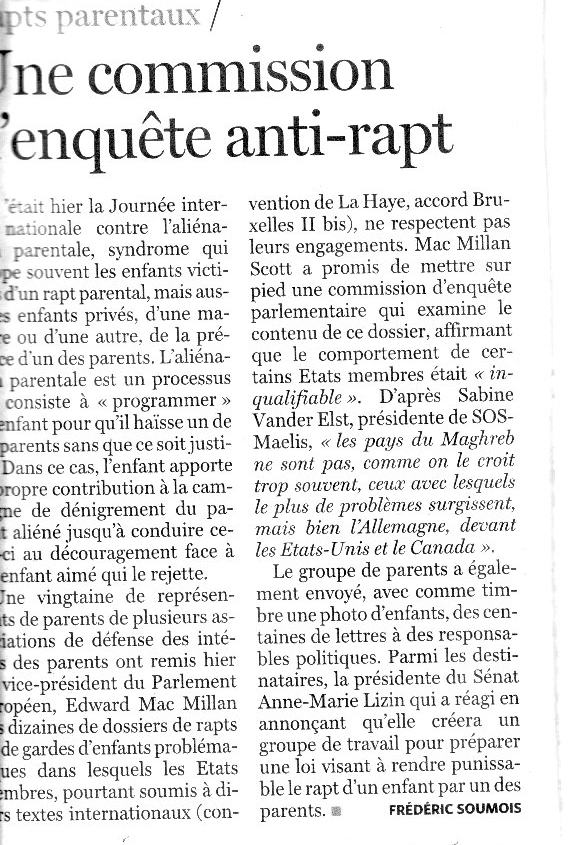 ---
Parental Alienation Speech
---

On this 25th of April, almost 200 letters were sent around the world. Each letters bears a stamp with the face of a parent, or a child, victim of parental alienation. Some of the parents do not even have a picture of their child and could only draw the imaginary face of their child or, like Piono, get the statue of his daughter, as he created it at her birth.

We want to send letters to:
The president of the Senate, Anne Marie Lizin who promised in August 2005 that she would lobby for a law penalizing parental alienation in Europe.
the president of the European Parliament, Mr Borrell Fontelles
The Vice President of the European Parliament, Mr Mac Millan Scott, who fights for the cause of children, at European level.
Mrs Gebhardt, MeP and mediator, in charge of binational child abduction in Europe.
The Commissar Fratini and one to Commissar Michel, both, involved in the problem.
The Human Rights Bureau, in Geneva. Switzerland
To Mr Lelievre, Belgian politician, with responsibilities for Children Rights in Belgium. He will forward your letter to his alter ego in each relevant country.
Mr Van Loon, secretary of the The Hague Conference Bureau. Holland
Hans-Rudolf Rohr, Lic. Jur. Fuersprecher, From Brugg in Switzerland
Mrs. Maertens (Justice Ministery) Bruxelles, Belgium.
Justice ministere, Laurette Onkelinckx, Belgium
Judge Fendler Frankfort. Germany
Senhoria el Juez titular del juzgado de Familia,Madrid, Spain.
AG wilhelmshaven Familiengericht Wilhemshaven, Germany
Substitut du Procureur du Roi, Sabine Cabay, Huy, Belgium.
We was received in Mac Millan Scott office, with lawyers... It was a very good intervention, with the Vice president. this man is very fantastic, and we talk yesterday about a lot of cases and injustice. in the attachment you will find the actuel case that we bring to the lawyers from CEE.

Thank you to all the parents and associations who helped so that the 25th of April will not be a normal day anymore.

I want to say Thank you to the parents, Karine, Michael, Bruno, Ed, .. who had confidence and who one believed in this project, and to the associations - sosrapteparentaux, the association which was invested in this project - solidarité rapt parental, An kuycken, euro dads and mums, parental alienation awareness, fathercare Knowledge center Europe ,Kinderohnerechte Info, and a lot of another associations - to also make a wink with Marie Breda (http://citoyens.stools.net/Forum ), Pascal Gallez, Julian Fidgerald. and to Wojciech Pomorski.

I would like that the construction of such projects also recall that our combat and the defense of our children depend above all on us and the intelligent implication that we put at it. It should not any more be forgotten that the unification of the forces is our first force.

Sabine


---

Maeliss Sabine Vander Elst a écrit :

Ce 25 avril, sont parties des centaines de lettres à travers le monde, dont plus de 200 grâce à notre groupe de parents. Chacune de nos lettres auraient du porter le timbre avec le visage d'un parent ou d'un enfant victime de l'aliénation parentale. Certains parents n'ont même pas de photos de leur enfant et se sont vu devoir faire un dessin, ou comme Marco Piono présenter la statue qu'il a faite à la naissance de sa fille.

Certaines photos datent de la séparation, du kidnapping ou de la non présentation définitive de l'enfant manipulé. Manipulé par un parent égoïste et dangereux avec la douce complaisance de l'injustice et des autorités compétentes.

Ce 25 avril 2006 nos courriers sont partis vers ces enfants (si ce fut possible de retrouver leur trace), vers leur parent aliéné des quatre coins du monde, comme Nouvelle Zélande, Liban, Suisse, USA, Kossovo, Maroc, Allemagne, Chypre,.. Et vers nos responsables politiques internationaux afin de rappeler que l'amour existe encore dans nos cours et que nous attendons tous le retour de la justice familiale équitable.

Des courriers ont été adressés entre autre

1. A Anne Marie Lizin, La présidente du Sénat Belge, qui défend cette cause et qui a promis en Août 2005 de demander au parlement la création d'une loi punissant l'aliénation parentale. 2. A Madame Gebhardt député et Médiatrice, chargée des dossiers européens 3. Au président du parlement Européen, Monsieur Borrell Fontelles 4. A Monsieur le Vice Président du Parlement, Edward Mac Millan Scott, qui défend la cause des droits des enfants lors du divorce à l'échelle européenne 5. A Messieurs Fratini et Michel, commissaires à la commission européenne. 6. Au bureau des droits de l'homme, à Genève. Suisse 7. A Monsieur Lelièvre, responsable à Bruxelles aux droits de l'enfance ; il lui a été demandé dans cette lettre de partager notre message avec ses homologues des pays étrangers. 8. A Monsieur Van Loon, secrétaire du bureau permanent de la conférence de la Haye concernant le droit international privé. Pays Bas 9. A Monsieur Hans-Rudolf Rohr, Lic. Jur. Fuersprecher, de Brugg en Suisse 10. A Madame Maertens du Cabinet de la justice de Bruxelles 11. Au Ministre de la justice belge Laurette Onkelinckx 12. A la juge Fendler du tribunal de Francfort. Allemagne 13. Su Senhoria el Juez titular del juzgado de Familia de Madrid, Espagne. 14. AG wilhelmshaven Familiengericht Wilhemshaven, Allemagne 15. A Madame la Substitut du Procureur du Roi, Sabine Cabay, Huy, Belgique.

Je voudrais remercier Le Vice Président du Parlement Européen, Mac Millan Scott, qui a bien voulu recevoir les parents de victimes du SAP, suite à un rapt ou à suite à un refus de droit de visite. Je remercie aussi Marc Lemenschik qui avec Madame le député Evelyne Gebhardt nous a offert des entrées pour le parlement. Je sais que d'autres personnes du parlement ont participé à l'accès des autres parents pour le parlement, mais je n'ai pas leur nom. Merci à tous les parents et associations internationales qui ont participé à ce que le 25 avril ne soit plus un jour ordinaire.

Je voudrais dire MERCI aux parents, Karine, Michael, Bruno, Ed, Thierry, Marco, .. Qui ont eu confiance en ce projet et qui y ont cru, et aux associations comme - www.sosraptsparentaux.org, qui ont demandé à ce que l'on fasse quelque chose pour ce jour spécial - solidarité rapt parental, An kuycken, Euro-dads&mums, parental alienation awareness, Kinderohnerechte Info, fathercare Knowledge center Europe et toutes les autres associations qui ont relayé les informations - permettez moi aussi de faire un clin d'oil à Gladys, secrétaire de sosraptsparentaux, Ken, bigboss de http://www.sosraptsparentaux.org, et à Marie Breda ( http://citoyens.stools.net/Forum ), à Pascal Gallez et à Julian Fidgerald, mes traducteurs préférés. ainssi qu'à Wojciech Pomorski.

Notre combat, la défense des droits de nos enfants, ne peut se faire qu'avec une implication intelligente de notre part et la réussite dépend de l'unification de nos forces. Cette intelligence n'a pas été complète hier, chacun en retirera sa leçon.

Pour ma part, comme il a été prévu depuis deux semaines, je me retire du monde associatif, je n'ai accepté que d'y participer pour un temps bien déterminé, un mois, pour ce projet du 25 qui me tenait à cour car j'étais certaine qu'il répondait à la demande de tout enfant, national et binational. Je reste aussi à disposition pour les parents concernant la commission d'enquête, tout dossier que l'on me fera parvenir sera transmis à la commission d'enquête avec qui je resterai en contact.

Comme l'a expliqué Jaqueline André hier au colloque, si les associations ne savent travailler main dans la main et suivre un chemin bien défini ensemble il sera impossible à la cause d'évoluer et d'avancer.

Notre journée d'hier avait été déterminée comme telle : Le matin qui le voulait et qui le pouvait, venait terminer de coller les timbres devant les caméras de ARTE, a midi on dînait ensemble et l'après midi nous nous présentions au bureau de la poste et ensuite, à 16H30, chez Le vice président du parlement européen, Mac Millan Scot.

J'ai eu le sentiment que je devais beaucoup à beaucoup de parents depuis 3 ans, et lorsque sosraptsparentaux m'a demandé si j'avais une idée pour cette journée du 25, et bien c'est vrai que j'avais envie de donner pour tout le monde, pour tous les parents les fruits de ce combat, au travers d'un droit de s'exprimer devant Arte pour vous et en rencontrant à mon sens la seule personne qui a réellement fait quelque chose pour les parents, Monsieur Mac Millan Scott.

On a réussi sur un plan international, même beaucoup plus que prévu. Mais au niveau des coordinations et de la fratrie des associations, l'expérience que j'en retire, c'est qu'il y a encore un sacré travail à faire. Personnellement comme je l'ai dit je reste à disposition des parents et je soutiendrai tout projet intelligent ou initiative constructive des associations pour peu que le temps me le permette et les moyens.

Je souhaite bonne chance à tous

Et j'espère que cette action d'hier aura un impacte sur l'avenir, j'ai bon espoir surtout après avoir pu voir les avocats, la commission d'enquête ainsi que l'équipe de Monsieur Mac Millan Scott hier nous entourer et nous soutenir comme ils l'ont fait.

Je sais que cette lettre fut longue, disons qu'elle l'est, .je sais je suis bavarde, et donc je vous laisse et vous souhaite à tous bonne chance, et surtout pensez aux enfants avant tout.

Sabine


---

Plus de 200 lettres de SOS Rapts parentaux envoyées aux politiciens
Source: rtl.be
le 22-4-2006 16:05

L'association SOS Rapts parentaux postera, le 25 avril prochain à 15h30, dans le cadre de la journée mondiale contre l'aliénation parentale, plus de 200 lettres au bureau de Poste du Parlement européen. Ces courriers, de couleur rose, bleue et blanche, seront notamment adressés à Anne-Marie Lizin, présidente du Sénat, à Laurette Onkelinx, ministre de la Justice ou encore au président du Parlement européen, Josep Borrell.

Ces lettres, dont la plupart des timbres représentent des visages d'enfants victimes de rapt parental et du syndrome de l'aliénation parentale (SAP), "sont destinées à toucher et à sensibiliser des représentants juridiques ou politiques et organismes de défense" des droits de l'Homme, selon l'association.

Au même moment le 25 avril, d'autres associations et parents d'autres pays feront parvenir le même courrier à la Commission des Droits de l'Homme de l'Onu (OHCHR) à Genève. "Comme vous le savez, dans un nombre croissant d'Etats aux Etats-Unis et au Canada, la justice prend ce fléau (de l'aliénation parentale) au sérieux et a décidé qu'un parent reconnu comme parent aliénant doit être puni (...). Dans le reste du monde, rien n'est sérieusement mis en place pour protéger légalement l'enfant de ce danger", dénoncent les parents dans la lettre.

Une rencontre entre des associations de parents et le vice-président du Parlement européen, Edward Mac Millan Scott, aura également lieu le 25 avril.


---

Letter writting campaign to your local MP's, judges, lawyers, etc.
1.Copy some of the PA stories from the website.
2. Include a note such as: "Parental Alienation is child abuse. How many more children will be deprived of parents who love them?"
3.Attach stamps with your "missing children's" pictures (in US  www.stamps.com)
4. Send to attorneys, judges, legislators, etc.


---

WWW.ACALPA.ORG va fêter sa première année sur le web avec 15.000 visites et plein de projets Le 25 avril sera désormais La Journée Internationale contre l'Aliénation Parentale, sur une initiative de l'association SosRaptsParentaux ! Cette première année a été l'occasion de multiplier les actions d'information et de sensibilisation sur le sujet, un peu partout en Europe, aux USA, au Canada et en France. Pour cette journée du souvenir des enfants-soldats des guerres parentales, les actions des adhérents se sont multipliées et nous sommes tous acteurs de l'évènement ! ACALPA a envoyé à tous les Députés une Lettre Ouverte électronique pour leur demander leur soutien afin de convaincre le gouvernement de mettre en place : (1) une campagne publique d'information sur les conséquences des conflits parentaux sur les enfants ; (2) un guide des bonnes pratiques à la séparations parentale ; (3) un vrai travail de réflexion pour trouver des solutions pour une meilleure protection des enfants lors de la séparation de leurs parents et (4) un dispositif de soutien et d'accompagnement des enfants et des parents en grande détresse psychologique à la séparation. Des ateliers de travail sont en cours de formation sur ces 4 thèmes, dans la perspective d'un colloque européen sur le SAP en 2007, qui serait organisé par les ministères de la Famille et de la Justice et la Fondation pour l'Enfance.

CALPA existe grâce à nous tous: une association, c'est aussi une addition d'initiatives et d'idées un grand BRAVO à Joëlle pour son article dans La Montagne d'aujourd'hui ! En recevant notre appel, elle a réagit de suite en appelant des journalistes...Un grand BRAVO à Marie et Eric de Saint Raphaël, qui ont imprimé 500 exemplaires du tract "journée internationale contre l'Aliénation Parentale" et qui les ont distribués sur le supermarché, les parkings de la ville, les boites aux lettres de la marie, du centre d'action sociale, des avocats, de la police, plus 1500 e-mailing professionnels de leur entreprise ! Ils ont également collé des affiches dans les écoles et dans les abris bus à proximité des écoles, ont envoyé un courrier nominatif aux juges (JAF, ENFANTS) et au centre de médiation. Un grand BRAVO à Marie France pour sa participation à l'émission de radio sur « soleil fm » le 24 avril et la distribution de tracts à Tarascon.

Un MERCI solidaire à tous ceux qui pendant des mois ont photocopié les articles médico-juridiques proposés par ACALPA et les ont distribué autour d'eux, à ceux qui ont envoyé leurs témoignages, à ceux qui ont rencontré des députés, à ceux qui ont soutenu dans le partage d'autres parents par leur présence ou au téléphone, à tous ceux qui nous envoient un petit mot de soutien, à tous les inconnus anonymes qui viennent nous lire et qui dénoncent la maltraitance des enfants autour d'eux. Un immense MERCI à tous les professionnels du droit et de la santé qui nous ont écoutés et nous ont fait confiance.

Forts de ce soutien, nous avons été vos portes paroles, en ce début d'année, auprès :
- de l'institut BECCARIA qui nous accompagne et nous soutient dans nos projet
- de la Fondation pour l'Enfance avec qui nous avons développé un formidable partenariat,
- du conseiller à la famille du ministre Philippe BAS,
- du conseiller aux affaires civiles du Garde des Sceaux,
- de Monseigneur Vingt Trois, archevêque de France,
- du conseil épiscopal aux affaires sociales et à la famille,
- du président et de quelques membres de la commission Outreau ...etc

Nous avons participé, avec 3 avocats parisiens, au colloque-formation sur le SAP à Liège le 21 avril.

Notre partenariat avec les autres associations parentales, en France, en Belgique, en Suisse et en Allemagne, continue à se développer, dans notre champ de réflexion avec des objectifs de travail inspirés par notre charte éthique. En un an, ACALPA a réussi à monter un réseau de solidarité et d'information pour sortir les familles en détresse et en rupture de liens de leur isolement.

Des dates à retenir de suite pour votre agenda au mois de juin :
- colloque sur le SAP à Lyon le 2 juin par le dr. Edouard BROUSSALIAN
- assemblée générale d'ACALPA le 17 juin à Paris (au Sénat ?). Invitation envoyée à chaque adhérent.

Ce site est le vôtre : faîtes-nous part de vos questions ou de vos suggestions...
La présidente, Olga Odinetz



CANADA

As President of CANGRANDS, I am inviting you to become part of a very special new project !

"The ORIGINAL Hearts & Hands Across Canada" will be a project on behalf of both grandparents raising grandchildren and denied access in Canada. I am a grandmother raising my second granddaughter and denied access of my first granddaughter (my son and two different women), so both these issues are dear to my heart! We hope to have grandparents from all the Provinces and Territories represented on the quilt and in the book. My hope for the Canadian quilt and the book is to raise public awareness on the plight of grandparents and grandchildren. I plan on presenting the quilt and book in Ottawa on Grandparents Day one day.

Click here to find out how to submit your quilt block.

Betty Cornelius, President, CANGRAND
SR.R. # 1, McArthurs Mills, Ontario, Canada K0L 2M0
grandma@northcom.net


---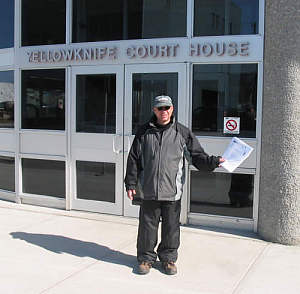 In support of Parental Alienation Awareness , (April 25, 2006),I handed out 100 photo copies of the home page to the following locations.

The Legislative Assembly of the Northwest Territories with attached note to forward to all members of the Assembly.

The New Democratic Party Member of Parliament, Western Arctic Member of Parliament Dennis Bevington, with attached note to forward to all members of the N.D.P.

All six Territorial Judges
The Yellowknife Royal Canadian Mounted Police
The Yellowknife Fire Department
Ten copies to the Yellowknife Health Services (family counselling)
25 copies to the Yellowknife Health Services (Head office)
10 copies to Stanton General Hospital (Pshych Ward)
The offices of four law firms, approxiamtely 25 copies
The rest to the general public.

best regards,

Mark Bogan
Yellowknife NT
Canada



USA

Show on Parental Alienation, including interviews with Adult children of alienation. To be aired on KRights Radio on April 25th. www.krightsradio.com


---

SB 1482 Hearing Postponed in Face of Massive Opposition
April 25, 2006

SB 1482 Update
In the face of over 3,500 calls, letters and faxes opposing SB 1482, the hearing on the bill has been postponed from today to Tuesday, May 9. Thanks to all of your for your participation.

The stated reason for the postponement is that the committee is working on fiscal matters right now, and SB 1482 isn't fiscal. It is possible that this is what happened. However, as I noted in last week's action alert, the bill's backers made a sweeping, last minute amendment to the bill in order to slip it through before opponents had a chance to organize. Now that there is great opposition, it is also possible that the bill's author realizes that this won't be easy and is delaying in order to marshal her forces. It is also possible that she is backing away from the bill, or is going to amend it to make it less objectionable. We will keep you informed. To donate to help our campaign, click here.

As I noted in my action alert NEW CAMPAIGN: Move-Away Bill Will Harm Children of Divorce (April 18, 2006):

"Under SB 1482...a parent seeking to block a move is specifically prohibited from citing most of the evidence that could provide a basis for restraining the move. Nonmoving parents are prevented from citing the move's impact on their children's relationships with them or the effects of the children losing their schools and friends. This directly abrogates current California case law which says that the children's relationship with their nonmoving parent must be considered when deciding a relocation case.

"SB 1482 is an attempt by the extremist Coalition for Family Equity and misguided feminists to reverse the progress made on behalf of California's children of divorce over the past two years. From 1996 to 2004 move-away determinations were based on the Burgess decision, which was interpreted by California courts as conferring unlimited move-away privileges. Under Burgess the bonds between tens of thousands of children and their noncustodial parents were needlessly ruptured.

"The California Supreme Court addressed the problem in the LaMusga decision in April, 2004 by making it clear that courts can prevent children from being moved when it is detrimental to their interests. Among the factors deemed important were the relationship between the child and the nonmoving parent.

"In the summer of 2004 then Senate President John Burton, one of the most powerful people in California, introduced SB 730, a bill which would have granted custodial parents an almost unlimited right to move children far way from their noncustodial parents.

"We organized opposition to SB 730, and thousands of you wrote and called Sacramento to oppose the bill. Our campaign gained widespread media attention and was endorsed by numerous mental health and family law professionals. Burton surprised Sacramento insiders by withdrawing the bill a few weeks later...

"California family law has a huge influence on other states, and parents all over the United States have a large stake in what happens here. I hear every day from devastated parents who lost their children in the aftermath of the misguided Burgess decision. I often hear from parents whose relationships with their children were saved by the LaMusga decision

"The Alliance for Children Concerned About Move-Aways, which we originally formed to defeat SB 730, is working with the California Alliance for Families and Children to defeat SB 1482."


---

REPORT: 21 April Protest of Justice for Children

The Gala fundraising evening held by the group Justice for Children (JFC) at La Colombe D'or, 3410 Montrose, Houston, Texas on 21 April was interrupted by a group of protestors.

The protestors had assembled to protest the biased and unethical manner by which the group JFC intervenes and intrudes, when it claims to be giving assistance to children. JFC maintains and hold high its utter disregard for the recognition, acknowledment, and inclusion of the symptomology and behavoir of systematic parental alienation. These children they claim to help may be parties to alleged domestic abuse or children of divorcing or separating parents. For some strange reason JFC refuses to take into consideration one of the most epidemic, severe, and lifetime affecting sort of child abuse in this country today, that of Parental Alienation Syndrome (PAS).

Parental Alienation Syndrome PAS is something expressed toward a child most often by adult parents who suffer from narcissistic, or borderline personality disorders. It carries a classical set of symptomology. By its use on a child the child is indoctrinated to feel toward the 'target' parent, a level of disdain approaching hate.

Robert Gartner hosted the protest and he was there holding signs that said "Justice for Children Gives Kids to Criminals... I Have Proof". He also held a sign that stated. "JFC Destroyed my Daughter". He had his daughter taken from him after he had gained care of her and had devoted five and a half years protecting her from the severe level parental alienation put upon her by her mother during mothers' periods of visitation. Today his daughters' live at nineteen is dysfunctional with the birth of a baby, no job, no father present in the new baby's life, daughter having moved back in with her mother. His daughter also never completed high school.

Kinley Hardin and his wife came to Houston all the way from Arkansas to join in the protest. They have thier own acute and painful stories of struggles over thier child and children of a sister and CPS ( Department of Protective and Regulatory Services). Kinley's wife held a sign that stated "JFC Rejects Systematic Parental Alienation". While she stood there, a woman walked up to her. After hearing her story, the woman turned away and decided not to attend the Gala, stating she planned to withdraw her support of JFC.

Protestors stood with thier signs at the edge of La Colombe's driveway, but most patrons of JFC entered with thier eyes trained forward, averted, as though they all suffered from tunnel vision. Thus, Robert Gartner chose to remain there the entire evening and at about 10:30 PM had an interesting time when patrons emerged to go home. At least three people from the Gala, came up to Mr. Gartner then and accepted information about how JFC had destroyed his daughter and about the fact that JFC disregard for PAS, cripples and muddles the effectiveness of JFC's mission.

No doubt JFC had their eyes peeled open as a result of the presence of these protestors, who braved this event bearing witness with their truth.

Robert Gartner
planetaryg@yahoo.com



AUGUSTA, MAINE, USA

PARENTAL ALIENATION Awareness is being observed in Maine April 25.
The meeting will be at Gilbert School, Sunset Avenue, at 7:00 pm.
We plan to have a psychologist, and hopefully a lawyer and a victim speak. There will be time at end of meeting for questions.
Hazel Davis. Chair Maine PAS Kids In Distress
Email for more info: meexpress2@midmaine.com
Press Release


Thanks to the efforts of Hazel Davis... the Governor of Maine has declared April 25th Parental Alienation Awareness !!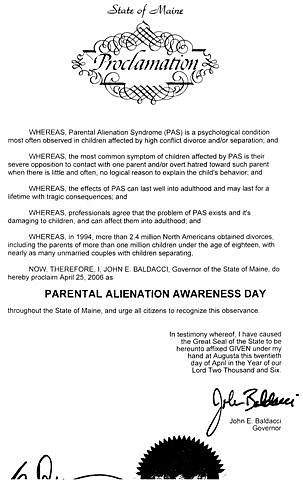 SACRAMENTO, CALIFORNIA, USA

I am going to take the flyers to the capitol and hand them out on April 25th, in Sacramento. If anyone would like to join me in this venture they can email me at mande2201@comcast.net. It is my understanding that they will also be deciding on SB 1482 that same day - how Ironic.

Erin Alig - Dimalanta



SEYMOUR, CONNECTICUT, USA

LUNCH & LEARN CALLS WILL ASSIST PARENTS AND CHILDREN OF DIVORCE
First call set for May 3, 2006 at 12:00 p.m. EST



Dr. Michael Bone, a licensed psychotherapist, Dr. Robert Evans, a licensed school psychologist, and Author Jeff Opperman have created the monthly Lunch & Learn conference calls to help parents, legal and mental health professionals navigate the emotional roller coaster that often exists when parents and children become polarized during divorce and child custody proceedings.

The group's first Lunch & Learn call is scheduled for May 3, 2006. Calls are also set for June 7, July 12 and August 9. All calls begin at 12:00 p.m. EST. Participants will use a toll-free phone number and special access code to enter the 60-minute conference. The first 50 people to sign up for a call will receive a $5 discount on the $29.95 admission charge.

"Parents and children are psychologically and emotionally vulnerable during divorce or separation and child custody proceedings," Bone explains. "Children are often pulled into the marital conflict. Our goal is to provide information that will keep children out of the conflict so they can have normal, healthy relationships with both parents."

"I used conference calls in the business world to disseminate information and create a dialogue between large numbers of employees and senior management," Opperman, a former corporate communication executive, says. "Whether the goal is to produce a better widget or get through a divorce or separation, the value of listening to experts, hearing from people in similar situations, and asking questions of people you don't normally have access to goes a long way towards helping people reach their goals."

Please visit http://www.treehousesolutions.org/teleconferences.htm for more information; or contact Jeff Opperman at jeff@hugstoheartbreak.com. Please call Paula Ellman at 407-443-5627 to register.

Dr. Michael Bone and Dr. Robert Evans operate Tree House Solutions LLC (http://www.treehousesolutions.org), a resource for families experiencing divorce or separation and its aftermath.

Jeff Opperman is the author of Hugs to Heartbreak: A Parent's Journey Through Parental Alienation Syndrome (http://www.hugstoheartbreak.com). His articles have appeared in publication such as Counseling Today and Children's Voice Magazine and online at Womansdivorce.com and Dadsdivorce.com.



DETROIT/MICHIGAN, USA

I want to send a message out to all people who come to this site... I have contacted Dr Phil, Montel, Oprah, fox 2 news, channel 4, channel 7...these are all Detroit news stations. For all of the people in Michigan please send them an email. The more emails or letters they get regarding PAS maybe they will do a show. As for all around the country... Dr Phil and all of the talk shows... email, write, call!!!!!!! the more we send requests re: PAS the more they might pay attention to it. I printed out 200 flyers and took them to the grocery stores and hardware stores and put them on the bulliton baords. I also put them on peopls cars. I plan on taking a trip to my local freind of the court office and putting them on all of the cars there. Wherever you can think of... put them. Give thenm to your friends and family. Ltes get the word out!!!!!! feel free to post my email address, if anyone needs a support system or has ideas... send me an email. Information is POWER!!!!!!!!!!!!!!!!!!!!
Kristen, kristenmills630@comcast.net



LA GRANGE, GEORGIA, USA

Bessie Hudgins of 3 sides to every story will be handing out pamphlets and flyers for PA Awareness as well as her own at several locations.
Email her for more info: three3sides@aol.com


---

I have printed and passed out about 250 flyers I printed from your site. So many people have no idea this exists.

As I told you before I had already started working on parental alienation information before you contacted me.

I had a horrible childhood and it caused me so very much pain. I am now reliving this with my son and his children.

I would love to see what we can do together, as it seems we are battling along the same lines.

My granddaughter's 17th birthday is the 4th of May. I have big plans to bring awareness to our community about this enormous problem on her birthday.

I have devoted the rest of my life to fighting this horrid happening for children of divorce. NO child should have to live in this kind of pain. I never thought in a million years I would spend my senior years fighting this battle, but they say if you live long enough, history repeats its self...I guess that is true.

Bessie Hudgins



HOLLAND
http://ouderverstoting.blogspot.com/
BRUSSELS, BELGIUM

Brussels (press release-loosely translated.) There will be a meeting on April 6 to discuss and prepare for April 25. The press release defines PAS and the behaviors associated with PAS-whereby a child refuses contact with a parent for no legitimate reason. That these behaviors generally arise out of the context of divorce or separation, where the child feels obliged to choose the more dominant parent.

They are trying to get a group together to go into middle and high schools to tell the chilren about PAS, much like they would teach children about sexual abuse.

They also want to propose to parents and children victimized by PAS, and who are in need of psychological support to participate in a group that will start soon in Brussels.


---

25 AVRIL :
                                 JOURNEE contre L'ALIENATION PARENTALE

communique de presse pour le 25 avril 2006
SAP 25 avril droit de l'homme FR fin


       (en pieces jointes, le communiqué de presse, la lettre qui sera
adressée  aux droits de l'homme et des exemples de timbres avec des visages
de victimes du SAP)

1. Dépôt de plus de 200 lettres au bureau de Poste du Parlement Européen
2. Rencontre avec le Vice Président du Parlement Européen;
                Edward Mac Millan Scott
3. Colloque sur l'aliénation Parentale


Le 25 avril 2006, à 15h30 L'association SosRaptsParentaux sera rejointe par
des parents et associations au Parlement Européen afin d'y poster plus  de
200 lettres roses, bleues et blanches. les timbres sont pour la plus part
des visages d'enfants victimes du SAP. (syndrome de l'alienation parentale).

Ces lettres sont destinées à toucher et à sensibiliser des représentants
juridiques ou politiques et organismes de la défense aux droits.

Au même moment dans d'autres pays, d'autres associations et parents de
victimes de l'aliénation vont faire partir ce même courrier à destination
des droits de l'homme de Genève.

SosRaptsParentaux est l'association qui a fait germer ce projet, un projet
devenu très vite concret grâce au relais et à l'unification de diverses
associations.

Les courriers qui partiront du bureau de poste du Parlement Européen seront
adressés entre autre

1. A  Anne Marie Lizin, La présidente du Sénat Belge,  qui défend cette
cause et qui a promis en Août 2005 de demander au parlement la création
d'une loi punissant l'aliénation parentale.
2. A Madame Gebhardt député et Médiatrice, chargée des dossiers européens
3. Au président du parlement Européen, Monsieur Borrell Fontelles
4. A Monsieur le Vice Président du Parlement, Edward Mac Millan Scott, qui
défend la cause des droits des enfants à l'échelle européenne
5. A Messieurs Fratini et Michel, commissaires à la commission européenne.
6. Au bureau des droits de l'homme, à Genève. Suisse
7. A Monsieur Lelièvre, responsable à Bruxelles aux droits de l'enfance ; il
lui sera demandé dans cette lettre de partager notre message avec ses
homologues des pays étrangers.
8. A Monsieur Van Loon, secrétaire du bureau permanent de la conférence de
la Haye concernant le droit international privé. Pays Bas
9. A Monsieur Hans-Rudolf Rohr, Lic. Jur. Fuersprecher, de Brugg en Suisse
10. A Madame Maertens du Cabinet de la justice de Bruxelles
11. Au Ministre de la justice belge Laurette Onkelinckx
12. A la juge Fendler du tribunal de Francfort. Allemagne
13. Su Senhoria el Juez titular del juzgado de Familia de Madrid, Espagne.
14. AG wilhelmshaven Familiengericht Wilhemshaven, Allemagne
15. A Madame la Substitut du Procureur du Roi, Sabine Cabay, Huy, Belgique.

Des courriers seront aussi adressés à des parents, grands parents et enfants
victimes de l'aliénation parentale vivants par exemple en nouvelle Zélande,
aux Etats Unis, en Suisse, à Chypre, au Liban, en Espagne, ..

Ce problème concerne les affaires bi-nationales comme nationales.

Ce projet a été soutenu par euro-dads&mums, Action4justice,
solidariraptparental et bien d'autres. et présenté sur divers sites comme
celui de Goudi.

Une pétition internationale contre l'aliénation parentale que nous soutenons
se trouve sur le site :
www.paawareness.org

Nous donnons rendez vous aux parents et à la presse le 25 avril à l'entrée
de l'accréditation des visiteurs, entrée placée du côté de la place du
Luxembourg. La télévision Arte se déplacera, et nous serons heureux de vous
retrouver tous avec nous ce jour là.


Concernant le deuxième point, Le vice président Mac Millan Scott, qui se bat
depuis des années pour défendre les droits des enfants va recevoir des
associations afin de les présenter à une commission d'enquête. Des dossiers
binationaux sont souvent difficiles par la difficulté de la justice et du
respect ou non des conventions signées ou non ; Un groupe de parents, dont
sosraptsparentaux s'est associé pour regrouper les dossiers et les
transmettre à la commission d'enquête. Ce mardi 25 avril, nous présenterons,
au Vice Président du Parlement, une association Hollandaise, Fathercare
Knowledge Centre Europe qui s'est unie à sosraptsparentaux pour gérer le
regroupement des dossiers.
Ce jour là, aussi, nous présenterons un dossier spécial : Le premier dossier
qui devait être rapidement clôturé par la règle Bruxelles II bis. Mais qui
n'a  pas encore, à ce jour, été solutionné. Ce qui tend à croire que
Bruxelles II bis n'est pas la solution promise par les autorités centrales.

Pour tout renseignement complémentaire concernant ces deux rendez vous de
l'après midi veuillez prendre contact avec Sultana Kouhmane de
sosraptsparentaux, http://www.sosraptsparentaux.org et dont l'adresse Email
est sosraptsparentaux@hotmail.com ou avec Sabine Vander Elst
degas2006@yahoo.fr ou sosmaelisssabine@hotmail.com
Vous pouvez nous joindre aussi par téléphone ;
Sultana Kouhmane: 02  763.23.17
Sabine Vander Elst: 0497 38 6977



A 19H30 une Conférence sur l'aliénation parentale est organisée par
Solidarité Rapt Parental, avenue Louise 384 à Bruxelles.  Pour tout
renseignement concernant ce colloque ; tel : 02 476 96 13 74



---

Comme nous vous l'expliquons en pièce jointe, nous serions ravis de vous accueillir à notre conférence de presse sur le SAP, le 6 avril à 11 heures, au 384, avenue Louise à 1050-Bruxelles.

Cette conférence de presse est destinée à annoncer:
la conférence publique du 25 avril, organisée à l'occasion de la journée mondiale du Syndrome d'aliénation parentale.
les conférences d'information sur le rapt parental et le SAP que nous donnons en milieu scolaire
la création à Bruxelles d'un groupe de parole destiné aux parents d'enfants victimes de rapt parental et de SAP.
En espérant vous y voir nombreux, nous vous adressons nos meilleures salutations.
J. André



GERMANY
www.vaeter-aktuell.de/25.April_2006_PAS-Broschuere_DE.doc
www.vaeter-aktuell.de/25.April_2006_Die_Rechte_der_Scheidungs-_und_Trennungskinder.doc
www.vaeter-aktuell.de/25.April_2006_Flyer1_DE.doc
www.vaeter-aktuell.de/25.April_2006_Flyer2_DE.doc
NEW ZEALAND

Posters being put up by volunteers. For a New Zealand-specific poster, you can request a copy by emailing pauls_news@yahoo.co.nz. (Please put "PAS Poster" in the Subject Line), or click here to download.



UNITED KINGDOM

DON'T FORGET ABOUT DADDY MEMORY TREE To support Parental Alienation and Hostile Aggressive Parenting Awareness on April 25th 2006 we at Dont Forget About Daddy.co.uk have begun a really special page on our website. We started the Memory Tree so that parents and families of children separated by alienation could place their child/children's names on a leaf on our tree. You don't have to be a member of Dont Forget About Daddy.co.uk to have your child's leaf on our tree, just send us your child's FIRST name, age, and general location in the world.

Help us fill our Memory Tree.

Email mail@agtc.co.uk Website http://www.dont-forget-about-daddy.co.uk/tree.php


---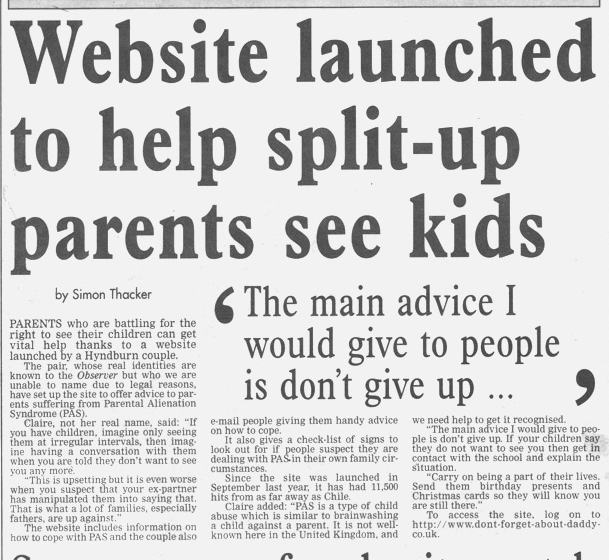 ---

Press Release - 24th April 2006
For immediate release

Parental Alienation Awareness 25 April 2006

25 April is the first international PA Awareness . It is being observed in 20 countries.

"Parental alienation syndrome" is the brain washing of a child by one parent against the other. It is one of the saddest, and commonest manifestations of family break-down.

The manipulation of children by one parent, with the intention that they reject the other parent, is a type of psychological violence which qualifies as abuse.

Family Court decisions about the parenting of children are being increasingly based on the children's own expressed wishes. This is a positive development, and will lead in the normal case to the children being allowed to spend more time with their non-residential parent than they are currently allowed However, this does also increase the incentive for the parent with whom they mostly live to get them to express, as if it was the child's own, any hostility felt by the residential parent to their ex.

That parent is obviously in a stronger position to resist the sharing of parenting time if they can say that the children involved do not want to see, or have a relationship with, their other parent.

Sometimes the children are coached in what to say to, for example, welfare workers. Sometimes they simply want to please their residential parents by saying what they believe that parent wants them to say. Occasionally the children blame their 'other parent' for any problems they or their residential parent seem to have as a result of family division. It can vary, therefore, from deliberate poisoning of a relationship to something not explicitly intended at all.

The issue is not a gender one - when children live with fathers, fathers can abuse their power over them just as badly as mothers. But obviously this is rarer, with 90% or so of children in the sole custody of mothers.

The solution to so many of the problems of family break-down is in shared parenting.

Often the outcome is that the grown-up children turn against the alienating parent. As a result they end up with severely damaged relationships with both.

FNF members would like to talk to the media about Parental Alienation.


For further information go to http://www.fnf.org.uk/law/pas.htm
And: http://www.paawareness.org/
The Madrid Declaration: http://www.fnf.org.uk/files/Declaration%20of%20Madrid.pdf
Add your name to letter to the UN at http://www.fnf.org.uk/news/pasletter.htm


---
Parental Alienation Awareness letter to the Office of the United Nations High Commissioner for Human Rights
To: Mrs M Andrijasevic-boko
Secretary of the Committee on the Rights of the Child
Office of the United Nations High Commissioner for Human Rights
UNOG-OHCHR,
1211 Genève 10, Switzerland


Dear Mrs M Andrijasevic-boko,

Please find below our joint letter, as parents and parents' group representatives, to your office. We would be grateful for advice on taking our agenda forward.

The French version of this letter appears here:
http://groups.yahoo.com/group/euro-dads/message/28520

Julian Fitzgerald


---


Attn: Office of the United Nations High Commissioner for Human Rights
(OHCHR) UNOG-OHCHR, 8-14 Avenue de la Paix, 1211 Genève 10, Switzerland

25th April 2006
Re: Parental Alienation
Dear OHCHR,

Today 25th of April is International Parental Alienation Awareness , concerning a very serious matter, a life trauma that we could so easily protect our children and families from.

Each letter you will be receiving from us will be on the same topic. Please note that on some of the envelopes the stamps have a child's face on. Each face is the face of a victim of a kidnapping, a victim of parental alienation. Each child is the child of a parent who is writing to you.

As you probably know, American and Canadian judges in an expanding number of states take the matter very seriously and a parent who alienates a child from the other parent can face up to to two years in prison. In the rest of the world, very little if anything substantial is yet being done to protect children and adults from the dangers of such mistreatment.

It is a desperately sad situation of social rejection to create for a family, in particular children who even as grown-ups can be shattered by the realisation that the parent they have been taught to despise or hate was just a parent who loved them. Experts on this pathology are increasingly disturbed by its spread and depth, as it has disastrous consequences for social cohesion and the integration of all ages and both sexes in the wider community.

We, parents and victims, ask you the following: please protect our children, victims of parental alienation. In order to protect human rights, one ought to protect, first and foremost, children's rights to their family. We ask:

1. For enhanced and decisive regulatory decisions such that it is recognised that a child has the right to both parents, and that such family ties must be protected.
2. That child abduction or obstruction of contact should be recognized as human rights abuses under both national and international law, whether practised by parents against each other or by officials against an individual parent, so that an alienating parent or an alienating official can be taken to court and tried for these crimes, with the degree of alienation taken into account, thereby tilting the balance in favour of caring parents, irrespective of their sex.
3. That items 1 and 2 be integrated into the framework for dealing with both international and domestic child removal. For too long we have lived under a child abduction régime.
4. Concerning non-respect of contact rights and parental kidnappings to which a blind eye is turned by the judiciary, in order to get conventions and laws on co-parenting to be respected, we must have a "no-delay" justice system where non-compliance is felt to be a risk. It is not acceptable that a judge delays reaching judgment when such delay may result in extended periods of loss of contact. Neither the children, nor we, have the time for this any more.
We hope, dear Sir or Madam, that you will do your best to prevent parental alienation, so that we and our children can have our own cultural values respected as well as all our other human rights, as human beings, with human families, and so that we no longer have to go through this ordeal.

Yours sincerely,

Some loving fathers and mothers,

John Baker, Chair, Families Need Fathers (FNF), Brighton, UK
Marion Jaywardine, Chair, Mothers Apart From Their Children (MATCH), UK
Julian Fitzgerald, Euro-dads&mums (EDM), Leeds, UK
Malcolm Levinkind, JUMP , UK
Pascal Gallez, Bruxelles, BE
Sabine Vander Elst, Bruxelles, BE
Gary Strachan, Thurso, Scotland
Richard Carr, Edinburgh
Matthew Stannard, Families Need Fathers, London, UK
Mark Hambury Young, Bristol UK (Father)
Gary Strachan, Thurso, Scotland
Philly Morris, (www.checkemlads.com)
Jennifer Cuttriss, Kettering, UK (Mother and grandmother, member of FNF)
David Cuttriss, Kettering, UK (Father and grandfather, member of FNF)
Mr. Jan van Heeckeren, Lymington, Hants (Father Alienated from 2 young sons)
Jonathan Naylor, Cheshire, UK
Jenny Crapper, UK
Stefano Genovese, London, UK (On behalf all the children the system has ignored)
Kevin Pope, Tring, Herts (Father)
Zhao Xu, London, UK
Steve Stephenson, London, UK (Secretary, Central London Branch FNF)
Sir William Arbuthnot, Bt, London, UK
Karen Randall , Richmond, Surrey (Mother)
John Waterman, UK (Broken Hearted Fathers U.K.)
Alan Martin, Leicestershire, England (Alienated father of three children)
Andrea & Andy Greenhalgh, UK (www.dont-forget-about-daddy.co.uk)
Dr Tim Hughes, Diddlebury, UK
John Booth, Oldham, UK (FNF member)
Andrew Watson, Berkshire, UK
Lee Allen, Parent of Toby, uk, UK (Parent)
Ian Chadwick, Essex, UK (Representing Rebecca Chadwick)
Anne Bill, Belfast (On behalf of separated mums who really care about their children - enough to let them have both parents)
Les Young, Birmingham
Philip Cook, Stavanger, Norway
Clare O'Brien, Southport, Merseyside (I represent my partner Rob O'Brien)
John Beale (FNF member)
Doreen Shaw
Robert Poole, England
Gordon Crapper, Wirral, Merseyside (Grandfather, member of FNF)
Enid Crapper, Wirral, Merseyside
Jacqueline Wilkinson, Kent, UK
Richard Charles Martinez, Parental Support Group, Gibraltar. (FNF member)
Ms Lorna Morgan, Perthshire, Scotland
Malcolm Lochhead, Westminster, London, UK
Max Stewart, St.Andrews, Fife, Scotland

Robin Randall, father of Suzanna, Richmond, Surrey
Shelly Griffiths, Wirral (partner of suffering father)
Jeff Botterill, Surrey, UK

Gary Westcar, devoted father of William & Lauren Westcar (4.1+ & 2.9+ years old)
James Westcar, devoted paternal grandparent (80 years old)

Margaret Westcar, devoted paternal grandparent (76 years old)

Robert Hall, Newcastle Upon Tyne, UK
Wesley E Jones (Father and FNF Member) Cheshire, UK
Anne Jones (StepMother and FNF Member) Cheshire, UK

Aimee Nester (Family Child Care Provider in California USA/Mother of Child who has suffered)
Miss Jennifer Tebbutt, Leamington Spa, UK

Sharon Staite, Edinburgh (for the sake of children who are not given a choice)
Sukhwinder Randhawa, a father based in London, UK
Teejay Sogunro, London, UK. (alienated father of 4)
Rita Nichol, York, UK
Kerry Drumm, I want to see my nephew, Leics, UK
Johnny Mason, www.wellalive.com, Aldershot, UK
Joe Simpson, father, Stockport, England

David Adam, Cambridge, UK

Joolz Card, South Wales
Adam Mason, Keele University Law Society, Keele University, Staffordshire
John Evans, Scunthorpe UK ( father & FNF member)
Chris Dolan, Belfast, Northern Ireland
Alun Williams, South Wales UK
Lisa A. Cohen (JUMP) UK

James Joseph Donovan, Bacup, Lancashire

Peter Hill (Member of Families Need Fathers) London, UK

Claire Elliott-Evans (nurse, supporting my husband whose ex-wife has alienated his daughter and is trying to do the same to his sons) Cwmbran, South Wales
Leonid Yanovich (FNF member, Father) Reading, UK
Michael Hodgkinson (for James and Christian in Perth Western Australia whom I haven't seen for 8 years) Sheffield UK
Pierre van Tankeren, (father and FNF member) Ipswich, Suffolk
Dona van Tankeren, (step-mum and FNF member) Ipswich, Suffolk
Laurence Herniman, (member of FNF), Mexborough, South Yorkshire
Julie Ann Farringdon, Wigan, UK
Angelo Georgiou Agathangelou, Father, member of FNF, Bristol, UK
Bill Stafford, Father alienated from his two children since 2003, FNF member, Sandy, Bedfordshire, UK
Britt Stafford, FNF Helpline Volunteer and married to a father who doesn't have contact, Sandy, Beds, UK

Charly Hamlyn, York, UK (mother and stepmother)
Emma Hawkes, representing my child and my step-child who are denied a relationship, Redditch, West Midlands, UK
Andrew Hunt, London, UK
Rosemary Slater, Macclesfield, Cheshire, England
David Yarwood, Concerned grandparent, Ascot, England
Michael Judge, dad, London, UK



BRAZIL

In Brazil APASE - Association of Divorced Parents www.apase.org.br is constantly dealing with alienation parents problem.

Our justice system is based on solely custody, mostly offered to mothers. Data shows that over 95% of children custody is given to mothers.

Fathers and children very often have just alternate weekends to share their love, tenderness and company, no matter how close or how their wishes are.

And this kind of custody is well accepted not just by justice, as by all the legal system involved in custody cases, as Social Assistants, Layers, and Psychiatrists. Many newspaper, magazines and TV articles shows that society has evolved and men as fighting for a place in the family that he has not conquered yet. While women has found a very important place in the job market, men has not got yet his place into the family, especially in divorced or separated families.

APASE has edited a book on Joint Custody with most famous authors in this field. APASE is now preparing a book on PAS that should be available soon.

Hopefully we will promote necessary changes to have a new society, more equal in family matters.

Parental Alienation Awareness

Let's change the family better.
José Nestor Cardoso
\ APASE - Rio Grande