Donate Now! Support Parental Alienation Awareness Organization!
Every day, thousands of children around the globe experience Parental Alienation. Parental Alienation Awarness Organization's mission is to educate parents, professionals, and the public about the harm these behaviors cause children, so that they can be recognized and stopped.

We thank the thousands of individuals, corporations, foundations and groups across the globe who help Parental Alienation Awareness Organization (PAAO) with their support. Together, with your help and support we can make a difference.

There are many ways you can make a difference. Your donation will go a long way in bringing education and awareness about these issues. You benefit by knowing that your support is helping us to effect change.

You can support PAAO today with an individual gift; by becoming a monthly donor; in memoriam or to honour a loved one; ensuring that your gift is matched by your employer; or, by leaving a legacy gift or by becoming a corporate partner.


One Time Gift

Click below to donate a one time gift to PAAO. Your donations help us with our mission of raising awareness and education about these issues.




Become a monthly donor

Monthly giving is a cost-effective, reliable and a consistent source of funding for PAAO. You are in control! At any time you can increase, decrease, pause or stop your donations, all at your convenience by logging into your paypal account.
It's easy. It's flexible. It's convenient. Most of all it is rewarding. Your monthly gift will help ensure that we are able to reach people with our message. A gift of $10, $20 or $30 (just $1 a day) will make a big difference!

$5 /month donation
$10 /month donation
$20 /month donation
$50 /month donation
Leave a legacy


Donate to PAAO by leaving a legacy gift contribution from your will, life insurance policy or as a gift annuity to educate and raise awareness of these issues and help future generations of children.



Purchase merchandise and support PAAO


Support PAAO, and raise awareness, by ordering the many products available at our Cafe Press store.
Click on the icon below to go there: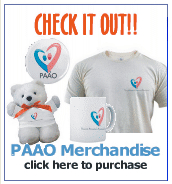 Where does the money go?


As the charity (reg. no. #86002 1393 RR0001) who serves as the voice of millions of children, we want you to know how your are benefiting them.

PAAO is dependent on the generosity of the public to support our mission of raising awareness and education about Parental Alienation and it's effect on children.
PAAO understands and is accountable to our donors to ensure that we spend all monies received in an appropriate manner.
Some of the ways your support helps are:
To put on workshops and webinars to educate professionals about Parental Alienation and it's effect on children. How to recognize it, and help stop it.


Production and deseminiation of press releases.


Maintaining our website and it's domain names.


Producing Public Service Announcements.


Printing costs for Brochures and posters which are distributed by our volunteers to professionals, and public areas.


Telephone and Email blasting software costs.


Disemination of articles and papers from proffesionals to educate the public.


Continue to build the online resources for families experiencing alienation.


Support Parental Alienation Awareness Day (April 25th) efforts across the globe.
PAAO is intent on effecting change to make the lives of children free of this form of emotional and mental harm.


Become a Corporate Partner

Why become a Corporate Partner? Interested in partnering with the leading charity working to stop Parental Alienation by education and awareness?

Call Parental Alienation Awareness organization at 416-840-5654 or email us at info@paawareness.com to help us to make a difference in the fight against Parental Alienation.

PAAO thanks its sponsors and corporate sponsors for their continued support. Without their generosity, our programs