Parental Alienation Awareness Day - April 25th, 2008

A BIG THANK YOU TO EVERYONE WHO HELPED RAISE AWARENESS AND EDUCATION ON APRIL 25th, 2008!!
The 3rd Annual Parental Alienation Awareness Day was a great success, with even more countries, and more volunteers, helping around the world!
If you planned an event on April 25th to help raise awareness and education about Parental Alienation and the harmful effects of these behaviors on children, please emails us photos and a description at events@paawareness.org with your event name, location (including country), and we will post them here for all to view.


Thank you to all of you who support PAAO and PAAD! To date, we have 14 US, 2 CANADIAN and 1 INTERNATIONAL official proclamations or recognitions of PAAD!
Together we can make a difference.
Events Planned:
International
A Center for Human Potential and PAAO are sponsoring a series of webinars with professionals on the subject of Parental Alienation on April 25th, 2008. Anyone with a PC and an internet connectin may participate. Please go to our signup to register.
---
Every 15-minutes on April 25th a new true story of parental alienation will be posted on this site to show how frequently children are subjected to alienating behaviors and bullied into being separated from one loving parent by another.
Stories from children and adult survivors of Parental Alienation, as well as the alienated parents, can be submitted at here
---
We invite other organizations, individuals, mothers, fathers, sons, daughters, relatives, singers, actors, artist of all cities, to meet at your local Family Court Center in April 25, 2008 at 10 A.M. We invite you to wear white shirts and bring pictures of your children and signs of love and demanding for your right to see and love your children.
We believe that, if we speak loud enough this day, in one voice, institutions and authorities at all levels will be able to hear us.
Children have the universal right to love and be loved by mother and father.
If you want to participate, please contact us.
Rogelio Cisneros
rogecisneros@prodigy.net.mx


Invitamos a las organizaciones afines, a las personas interesadas, padres, madres, hijos, familiares, cantantes, actores, artistas, etc. en todas las ciudades, a realizar una manifestación pacífica en las afueras de los Juzgados Familiares de su localidad, el día 25 de Abril de 2008 a las 10 A.M. Los invitamos a vestir camisa o playera blanca y a llevar fotos de sus hijos así como pancartas expresando el amor por sus hijos y exigiendo su derecho de convivir con ellos.
Estamos seguros de que si nos expresamos todos juntos ése día en una sola voz, seremos escuchados por instituciones y autoridades.
"Nuestros hijos tienen el derecho universal de amar y ser amados por su padre y por su madre por igual"
Si deseas participar, por favor contáctanos.
Rogelio Cisneros
rogecisneros@prodigy.net.mx


---
BERMUDA
Please see attached a few photos of the event and the reading of the proclamation, by the Minister The Honourable Dale Butler on the steps of City Hall. We presented him with a Teddy Bear as a symbol of all our alienated children, also, a copy of ChildWatch's "Family Law Reform Submissions". The Shadow Minister was also, presented with a copy of ChildWatch's " Family Law Reform Submissions", on that day.
I trust that it was a success worldwide, thanks to you and PAAO, and look forward working with you in the near future.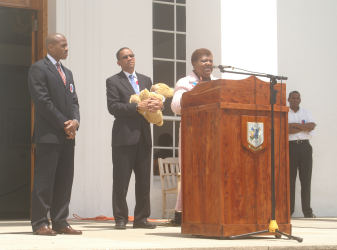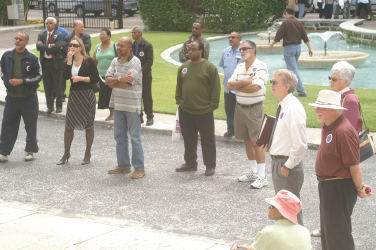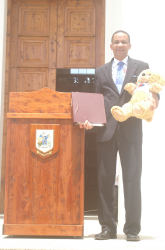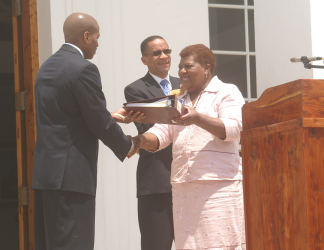 Canada
ALBERTA
Despite the cold winds, we held our Information Event and Petition Drive outside of Edmonton City Hall, Winston Churchill Square from 1100-1400h and at the Alberta Legislature (North steps) from 1500-1800h on Friday April 25, 2008.

We had the PAAO pamplet, PAAD Alberta Petition, numerous PA resources (various books, suggested reading list, PAAO website Mission and Selected Articles printouts) as well as my laptop playing selected DVDs on PA topics and to keep spirits up, my personal PAAO iTunes playlist.

It would be less than honest to say there was alot of interest, but the poor weather certianly had some influence. In any case some curious individuals came and enquired about PA, and whenever possible we sallied forth to engage others. Clearly, few are even aware of PA.

I would like to THANK EVERYONE who contributed to our 2008 PAAD Event and remind all that "from small acorns grow might oaks".

Over the next year I hope others will harness their own concerns about PA and join with us in order to make April 25, 2009 a better and more sucessful event.



BRITISH COLUMBIA
I just wanted to let you know that we are mounting a media campaign here in BC Canada regarding PA. The Family Relations Act is currently under review and we want the public to be aware that despite out best efforts, PA is not on the agenda. We are spending about $8000.00 Cdn to do this. We are also going to be putting a special promo front page on our site (below) and our sister organization PCBC (www.parentswhocare.ca) for PAA Day. If you have any questions please contact me and I will endeavour to answer them and/or pass you to the Programs & Communications Director, John Westwood, or the Executive Director Theo J. Boere.
James A. Latour
Centre Administrator
Nanaimo Men's Resource Centre
Nanaimo, BC
Phone: 250.716.1551
---
United States
ALABAMA
Parental Alienation seminar: March 29th, 2008 2-5 p.m. in Room 207 Dwight Beeson Hall at Samford University. Presented by the University of Alabama School of Social Work and the Alabama Family Rights Association. Free. Call 205-348-7512 or 1-800-992-1190.


DENVER, COLORADO
There will be 'Twilight Vigil' in recognition of April 25 as "Parental Alienation Awareness Day" and our lost, missing, and alienated children and we would like your participation.

The vigil will be at the State Capitol 14th and Lincoln St. (west steps) in Denver from 7-8:30 pm on Friday April 25.


COLORADO
I got the permit that I needed for the Colorado State Capitol so we are going to hold a "Twilight Vigil" on the evening of April 25th in recognition of "Child Abuse Awareness Month" and "Parent Alienation Awareness Day"
Sheryle (Hutter)


HARTFORT, CONNECTICUT
Candle vigil on April 25th at the State Capitol in Hartford from 6pm-12pm.
210 Capitol Ave, Hartford, CT
For more information please contact
Ken Krajewski @ 860-881-6311 or
Chris Kennedy @ 860-871-8538


FLORIDA & ALL STATES
Project Prevent - Bikers Across America
Help to raise awareness in your local area by joining in on the ride across America.

We all RIDE April 20th 2008
Check in Point - 12 Noon EST

To register your vehicle, fill out the form at http://fs8.formsite.com/cedartree79/form483860585/index.html PASSENGERS ARE FREE!


GEORGIA
April 25th. 2008, Bessie Hudgins of Three Sides to Every Story will have had the proclamation from Sunny Perdue blown up to 36 x 48, and had 2 of them made. She is going to mount them on a piece of wood with a pole so she can display them in the front of her building and at the end of her parking lot.
She is going to light up her yard and parking lot with candles. She isalso going to put lights all over the deck and yard and parking lot to draw attention.

Bessie is also writing a letter to the editor of our paper about the proclamation.

The National Parents' Rights Association will be hosting a Parental Alienation Awareness Symposium at the Georgia State Capitol Education Center from Noon-5:00PM on Friday, April 25th. Please join us for a FREE LUNCH and information.
They will also be hosting a Candlelight Vigil outside of the Gerogia State House that evening starting at 8:00PM. HARTFORD, CT
Candle vigil on April 25th at the state capital in hartford ct from 6pm-12pm. For more information go to www.fatherwithoutchristmas.com or call Ken Krajewski @860-881-6311.


SOUTH MINNEAPOLIS
April 25th, 5:00 - 8:00
Event: Dinner to honor individuals who have experienced Parental Alienation
Host: All About Family
Contact: Brian Kelley, Director, email: kelley01@visi.com
Location: South Minneapolis
http://www.allaboutfam.org
This is event is open to the public. A donation will be accepted to support the All About Family community program. Kim Griswold has offered to sing at this venue. As well, people will be encouraged to speak publicly about their child(ren) and share a loving memory of them with the attendees. Lots of other fun stuff planned including silk screening T-shirts, please contact them for more details.


MAIN
A large group will be meeting this Friday at the Family Court House in Waterville Maine fron 9:39 to 12:30 for PAAD I will be there all day. There will be an article in the local news in the morning and another bit of news on the day of the event.


MASSACHUSETTS
Wednesday April 23, 2008, First Congregational Church, 2East Central Street, In Natick Center, 7:00 PM in the Vestry
Friday April 25, 2008, 7PM to 8:30, Candle Light Vigil at the State House In Boston, Beacon St. Between Hancock And Bowdoin, Bring you own candles and holders to block the wind
For more information on the below vigils, please contact Bob Barker at rjbark2002@yahoo.com


SAN DIEGO, CA
Friday, April 25 2008, 08:00 - 10:00 by crispe1This e-mail address is being protected from spam bots, you need JavaScript enabled to view it Hits : 42

Let's rally in front of the Family Court House in Downtown San Diego to educate the Judges and Mediators how parent alienation is distroying our children because we do not have equal parenting. Parent alienation is a tool the custodial parent use to win in court and receive more child support or used just for revenge. Either way it distroys our children and is child abuse. I hope you come out to support our children and help prevent abuse.
Location: 1555 6th Ave near downtown San Diego
Contact: Larry at 619-991-7405 , Click here to go to their site.


TEXAS
The Court issued a Proclamation on Monday, April 7th, to Proclaim the Month of April as Child Abuse Prevention Month. Normally these proclamations are done only once a year. He stated, that next year if you could get with Child Guidance and have them add this information to the proclamation it would cover all. He said, that Monday, April 14th during the Public Comment section, he will publicly acknowledge that April 25th is Parental Alienation Awareness which is part of " Child Abuse Prevention" and if you would like to be in court that date, court starts @ 10am, in the Commissioners Courtroom.


WEST VIRGINA
Please join a group of concerned parents, grandparents, and other extended family members, in a candle-light vigil on
Friday evening April 25th at 9pm in Charleston. They will meet outside the Capitol building on the Riverside stairs, to show support for the children and families affected.
If you are unable to attend West Virginia's 1st Annual Candlelight Vigil for Parental Alienation Awareness, please consider holding a vigil in your hometown. Then email the details to: mawad.info@mawadwv.org


---
MEXICO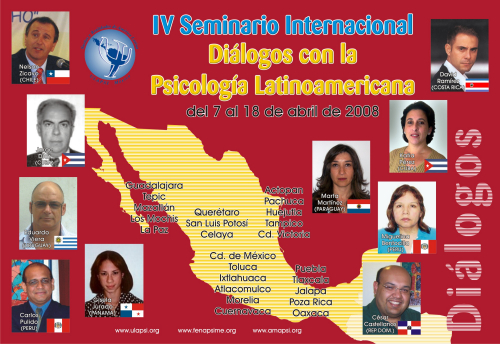 ---
Pictures show parents showing signs of love for their children. One of the pictures show the conversation I had with the President of the Superior Tribunal of Justice, Magistrado Jesus Garduño Salazar, who was present at our gathering.
The results of our manifestation was amazing. We were invited by legislators to start working to change laws and promote parental awareness using the legislator facilities. We will meet each week from now, all year to work together legislators, judges and affected parents.
As a next step, I am going to ask important Foundations such as Fundacion Azteca and Fundacion Televisa (major TV companies) to support us with national TV campaigns to promote PA.
I am sure that in one year we will have important results.
Rogelio Cisneros, Mexico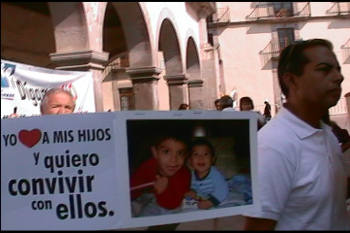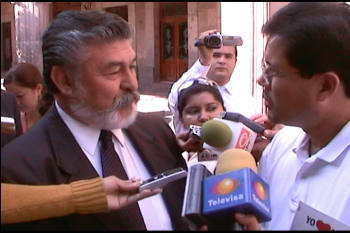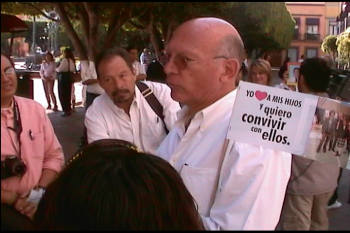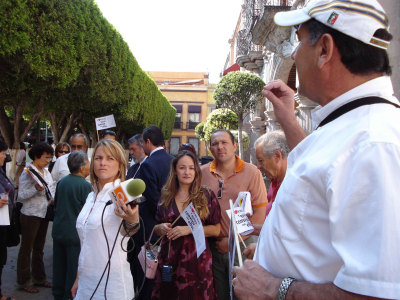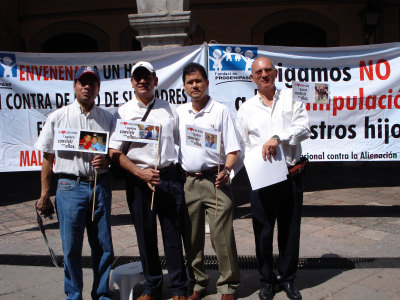 YOUTUBE videos: http://es.youtube.com/watch?v=YLSU5jmGIaw
http://es.youtube.com/watch?v=F2644hXyXSg




---
EUROPE
We intend to walk through Belgium, Germany and France, reaching Strasburg, for what will literally be a crusade, and will last several weeks.
We shall leave Brussels on the 25th of April, Parental Alienation Awareness Day. We shall arrive in front of the EP building, in Strasburg, on the 21st of May, a few days before the Missing Chidren Day.
We shall go from one town to the next, partly on foot, partly by public transports. We shall stop by in quite a few major cities, in order to collect a maximum of signatures for the petition that we are advertising through this crusade.
We are asking each association, each person feeling involved in this problematic to get as many names and signatures as possible for the petition and to bring them to Strasburg. You are quite welcome to walk with us for the last few kilometres and give the filled petitions to the EP.
Please send the petition, original or copies, depending on the fact you will come along or not to Strasburg, before the 15th of May 2008, to:
Marie Breda
Rue du Duc 10/12
4860 Pepinster
Belgium
bruxelles-strasbourg@live.be

Click here to download the full information.
Further, we would be delighted to get the ethical support of companies, associations and personalities. We shall propose them to support our cause through the use of their logo, or their name, on our documents.


---


On April 20th and 21st 2008 we are holding a two day conference. Details are available on www.alliance4justice.eu see the news and events section.
Dr. Lowenstein will be speaking on his experiences in the UK Courts.
---
AUSTRALIA
As part of Australia's contribution to your International Parental Alienation Awareness Day on the 25th April 2008, Peter van de Voorde have included a 40 minute segment on Parental Alienation as part of yesterdays program. This can now be found on the front page of our website www.dadsontheair.net together with your logo. The audio file can be freely downloaded from the website. As part of this program we ask our listeners to join in with the awareness day.
---
BELGIUM
JOURNÉE INTERNATIONALE « ALIENATION PARENTALE »
Vendredi 25 avril 2008, 19 à 22h
Maison de la Laïcité
Lucia de Brouckère
60 ? 62 Rue de la Croix de Fer, 1000 Bruxelles

SOIRÉE - CONFERENCES - DÉBATS
Accueil dès 18h00 (Sandwichs / boissons)
(PAF 5)

« LES MANIPULATIONS DU CERVEAU»
Avec Dr J. Emile VANDEREYDEN, Neuropsychiatre CHU ? Charleroi (Vesale)

« LA MANIPULATION MENTALE ET SES ACTEURS »
IMPACTS DANS LE CONTEXTE FAMILIAL
Jean Luc PIRLET, Psychanalyste - Psychothérapeute Bruxelles-Lièges

« LOI SUR L'ALIÉNATION PARENTALE : DISSUASION OU DÉRIVE LÉGISLATIVE ?
Kérim MAAMER, Politologue - ULB

CENTRE DES DROITS PARENTAUX (éditeur responsable)

Avenue Eugène Plasky, 26 ? 1030 Schaerbeek,
Tél : 02 - 735.88.48 www.justice-parentale.be GSM : 0475 - 547.807
---
CZECH REPUBLIC
Details coming soon.
---
LONDON, ENGLAND

We are staging a peaceful demonstration on Friday 25th of April In London , UK to bring awareness of PA , with leaflets and a small talk in we are permitted.
For more information please contact Djamel Kechacha at BKechacha@aol.com




---
MUNICH, GERMANY
On 25th of April 2008 PAS-Eltern has an info-stand in Munich/Germany in the walking zone from 14-18 o clock.
Greetings,
Christiane Pohl from Germany
Founder of PAS-Eltern
---
ITALY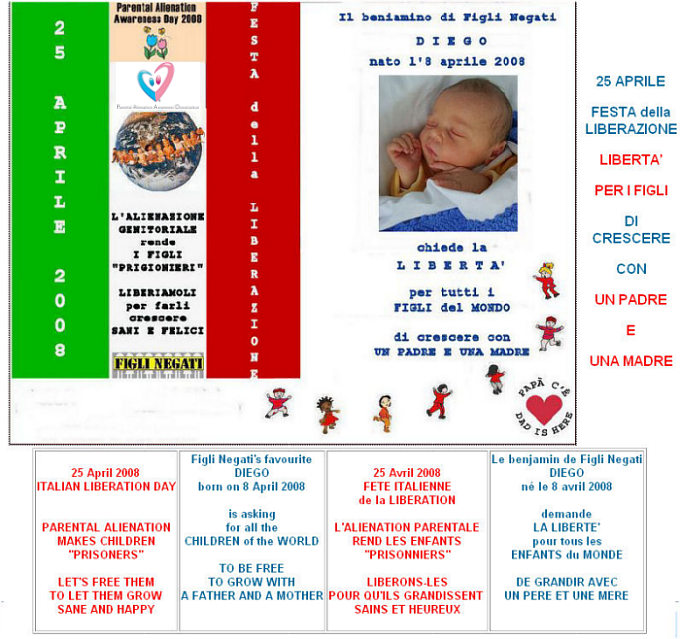 Press Release 25 April 2008
PARENTAL ALIENATION AWARENESS WORLD DAY

This morning the association Figli Negati did commemorate the world initiative promoted by Canadian Association against Parental Alienation. To pay homage to Liberation Day for our country, we did not make a sit-in. But our wish was to take some photos in the most symbolic Italian place, at Colosseo. Here we are. The other associations in the world joining this event know they can always rely on us. Today was a historical day for all these countries in the world that are underestimating how serious is PAS for children of separated parents. Our way is to do thing, and not just to stop at words. This is the way to make history. Taking part and teaching to those absents that civilization is still far from us. Thanks to the participants and a very special thank to Diego who became our mascotte. Born only a few days ago, he is already fighting for freedom of children from injustices depriving them of father or mother, paternal or maternal grandparents.
Giorgio Ceccarelli
+39 339275308

Communiqué de Presse 25 Avril 2008
JOURNEE MONDIALE CONTRE L'ALIENATION PARENTALE

Ce matin l'association Figli Negati a commémoré l'initiative mondiale de l'association Canadienne pour la lutte contre l'aliénation parentale. Nous n'avons pas voulu faire de manifestation en honneur de la fête de la libération de notre Pays. Mais nous avons voulu prendre quelques photos devant le lieu symbolique de l'Italie, le Colysée. Nous y sommes. Les autres associations du monde qui ont adhéré à cet évènement savent qu'elles pourront toujours compter sur nous. Aujourd'hui a représenté une page d'histoire pour tous les pays du monde qui sous-estiment la gravité du SAP pour les enfants de parents séparés. Nous aimons faire les choses et pas simplement nous arrêter à des déclarations. C'est comme ça que se fait l'histoire. Participer et enseigner aux absents que la civilisation est encore bien loin. Merci aux participants et un remerciement particulier au petit Diego qui est devenu notre mascotte. Il n'a que quelques jours mais il lutte déjà pour libérer les enfants des injustices qui les privent d'un père ou d'une mère, des grands-parents paternels ou maternels.
Giorgio Ceccarelli
+39 339275308

Comunicato Stampa 25 aprile 2008
GIORNATA MONDIALE CONTRO L'ALIENAZIONE GENITORIALE

Questa mattina l'associazione Figli Negati ha commemorato l'iniziativa mondiale dell'associazione Canadese sulla lotta contro l'alienazione genitoriale. Non abbiamo voluto fare una manifestazione in onore della giornata di liberazione del nostro Paese. Però abbiamo voluto scattare alcune foto nel posto simbolo d'Italia, il Colosseo. Noi ci siamo. Le altre associazioni del mondo che hanno aderito sanno che su di noi possono contare sempre. Oggi è stata una giornata di storia per tutti i Paesi del mondo che sottovalutano la gravità della sindrome di alienazione genitoriale sui figli dei separati. Noi amiamo fare le cose e non fermarci alle dichiarazioni. La storia si fa così. Partecipare ed insegnare agli assenti che la civiltà è ancora lontana. Grazie ai partecipanti ed in particolare al piccolo Diego divenuto mascotte del movimento. E' nato da pochi giorni ma già lotta per la liberazione dei figli dalle ingiustizie che li privano del padre o della madre, dei nonni paterni o materni.
Giorgio Ceccarelli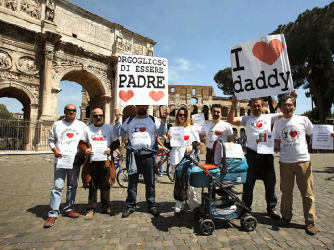 ---
POLAND
On website http://www.goldenline.pl/grupa/syndrom-gardnera-pas you can join to our discussion about parental alienation (presently, only Polish speakers). We invite people which can introduce hisself/heself and present his/her profile, if they want to be active participants of our discussion.

On website of Komitet Przestrogi przed Oddzieleniem Rodzica (Parental Alienation Warning Committee) http://www.kpor.pl/ you can read about Parental Alienation and it's social, civilization and religious negative effects of parental alienation and about our proposition of solving the problem (Polish). We are basing on Polish and international research, own conception and we place a letter from European Commision (Head of Unit C1: Civil Justice) about the effects of parental alienation on European society on our websites.(Polish)


MUNICH, GERMANY
On 25th of April 2008 PAS-Eltern has an info-stand in Munich/Germany in the walking zone from 14-18 o clock.
Christiane Pohl from Germany
Founder of PAS-Eltern
POLAND
On April, 25th, 2008, at 6 p.m. will be hold a seminar: PA, PAS, Hostile Aggressive Parenting and Problems of the Separated Child. Lecturer: Maciej Wojewódka (Komitet Przestrogi przed Oddzieleniem Rodzica). Location: Wojewódzka Biblioteka Publiczna, 1, Rajska, st, lectureroom no 247 (3rd floor), Kraków (Cracow).
For more information, contact Maciej Wojewódka at KPOR@googlegroups.com
UNITED KINGDOM
To highlight the 3rd International Parental Alienation Awareness Day on 25 April 2008 FNF, JUMP and MATCH will be circulating a Press Release highlighting their joint collaboration on recently undertaken research on Parental Alienation.
A summary report of this research can be accessed via: http://www.fnf.org.uk/downloads/Parental_Alienation_Report_Final_version.pdf
A Press Release will follow within the next 24 hours.
We must continue to work together to raise awareness of one of the most emotionally abusive situations that can affect children following separation and divorce.
It may be too late to help our own children who are victims of PA but our hope is that it will help other parents and children avoid the life-destroying pain and anguish which results from this form of brainwashing.